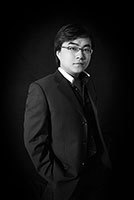 Siheng Song
Pianist Siheng Song was born in Shanghai, China in 1981 and is widely regarded as one of the top pianists of his generation.
In 2002, he started studying abroad in France in the Ecole Normale de Musique de Paris with Prof. Marian Rybicki. After receiving his Diploma of Concert Pianist, he went on to study with Olivier Gardon in the Conservatory of Paris, and is currently studying privately with Dominique Merlet.
After moving to Paris, Siheng began collecting many definitive prizes, such as first prizes in the Pontoise Piano Campus Concours, Morocco International Piano Concours, Viseu International Competition in Portugal, Grand Prix Animato International Concours. He was also a prizewinner at the Leeds, Dublin, and most importantly, the Grand Prize at the 2004 Long Thibaud Piano Concours, making him the first Chinese to win this prestigious competition.
Since his victory in Paris, Siheng Song has toured extensively throughout Europe and Asia. His many festival engagements include festival de la Roque d'Antheron in France, Ruhr Festival in Germany, Beethoven Festival in Bonn, Chopin festival in Duszniki in Poland and so on. He has played with many orchestras such as Orchestra Philharmonic de Radio France, Orchestre de Paris, Orchestre National de France, Orchestre National de Lille, Orchestre Phiharmonique de Monte-Carlo, Chamber Orchestra of Toulouse. Recently, he recorded several CDs for Radio France, DG to high acclaim. His first solo CD was released in April under the Passavant label. Despite his young age, Siheng Song has been invited as a jury in various competitions, including the Morocco International Piano Competition, the Grand Prix Animato, and the Concours International des Grands Amateurs de Piano in Paris.