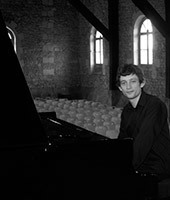 Robin Stephenson
Robin Stephenson started playing the piano at the age of 7, after one year of violin lessons. It was at the age of 15, after his meeting with french concert pianist Olivier Cazal, that the piano became his main instrument.
After taking the baccalauréat in 2005, he started studies in mathematics, which led him to being admitted in the Ecole Normale Supérieure of Paris in 2007 and then doing a PhD at Paris-Dauphine University. He is currently a post-doc researcher at the university of Zürich.
Robin has never stopped playing the piano during his studies, and tries to play in concerts as often as possible. He also actively takes part in amateur competitions and has notably won first prize in the Paris International Competition for Outstanding Piano Amateurs (2011), and the Piano Bridges competition in St-Petersburg (2013). He also often performs chamber music works with his chamber group "Ensemble Philéa".
http://www.normalesup.org/~stephens