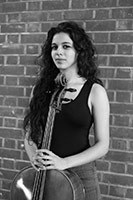 Photo: Javier Ballester
Mara Lobo
Born in Portugal to a family of Brazilian musicians, Mara Lobo started her music studies at the age of 2, taking the cello at 4 under Jaroslav Mikus, and the piano at 6, as a second instrument. At the age of 17, Mara entered Stefan Popov's class at the Guildhall School of Music & Drama in London, where she completed her Bachelor of Music degree with the generous support of the Guildhall School Trust. Since 2015 she is continuing her studies with Martin Ostertag (Cello) and Ralf Gothóni (Chamber Music) at the Hochschule für Musik Karlsruhe, in Germany, with a full scholarship from the Calouste Gulbenkian Foundation.

Mara regularly attends masterclasses with artists such as Antônio Meneses, Karine Georgian, Daniel Grosgurin, Ilja Korol, Amit Peled, Christophe Coin, Natalia Gutman, Márcio Carneiro, Paulo Gaio Lima, Xavier Gagnepain, Dmitri Ferschtman, Anatoli Krastev and Gregor Horsch, among others.


Since the age of nine, Mara has regularly appeared on stage, including recitals with piano, solo concerts with orchestra and in various chamber music formations, having performed in Portugal, Germany, Brazil and the UK, as well as in festivals in Spain, Italy, Switzerland, Sweden and Bulgaria.


She is a 1st Prize winner at the Concurso 'Marília Rocha' – Edição 2013, the III Concurso de Música "Paços' Premium" (2009), the Concurso de Cordas do Alto Minho – 2ª edição (2008), and the 9º Concurso Santa Cecília (2006).
Past events featuring this artist