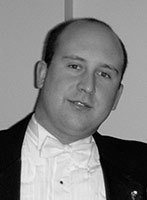 Luke Hnenny
Luke Hnenny was born and raised in Saskatoon, Saskatchewan, Canada. He began studying the violin at the age of four in the Suzuki Strings Program with Karen Bindle and subsequently went on to study with Lillian Jen-Payzant and Julia Ruby. His orchestral experience has included nine years as a violinist in the Saskatoon Symphony Orchestra. He has also played in numerous chamber music ensembles, and has been heard on CBC Radio Canada.
Luke holds a bachelor of science honors degree in microbiology and an MD from the University of Saskatchewan. He is currently in his third year of a residency program in neurosurgery. His interest is in cerebrovascular disease, and his research is focused on studying endovascular treatment of cerebral aneurysms in a rabbit model.

Outside of music and medicine, Luke enjoys indoor and outdoor climbing, hiking, and travelling. He is very much looking forward to a week of excellent music and relaxation on the French Riviera.
Past events featuring this artist