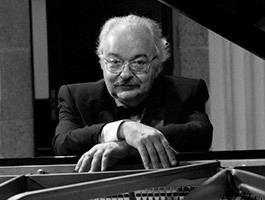 Luiz De Moura Castro
Luiz de Moura Castro was born in Rio de Janeiro, Brazil, where he received his early training and graduated Summa cum Laude from the National School of Music. He continued his studies at the Liszt Academy of Budapest. De Moura Castro made his debut recital in the Teatro Municipal, Rio di Janeiro at the age of nine after winning a competition. He has appeared with the Orchestre de Chambre, Lausanne, Lisbon Radio Orchestra, Filarmonichi di Turino, Bratislava & Janacek Orchestras, Yaroslav Symphony, Russia, Dallas, Fort Worth, Hartford and Syracuse Symphonies, in addition to all the major orchestras in Brazil.
He has given recitals at the following places, among others: Piccola Scala, Milano; Teatro Ghione, Roma; Salle Gaveau, Paris; Palau de la Musica, Barcelona; Salle du Conservatorire, Studio Ansermet, Geneva; Festival Pianistico, Bergamo/Brescia; Merkin Hall, Metropolitan Museum, New York; Sala Cecilia Meireles, Teatro Municipal, Rio de Janeiro.
Invited by Lili Kraus to teach at Texas Christian University, he has lived in the United Staes for more than twenty-five years. He is currently on the full-time faculty of The Hartt School of Music at The University of Hartford and is head of the Piano Department at the Juan Pedro Carrero School of Music, Barcelona. This season he began a visiting professorship at The Catholic University, Washington, D.C. Featured in Benjamin Saver's The Most Wanted Piano Teachers in the U.S.A., he has been invited as one of the master teachers and lecturers for the World Piano Pedagogy Conferences (Chicago, Philadelphia Fort Worth). His discography includes 20 CDs for Ensayo (Spain), Euterpe (Switzerland), L'Art (Brazil), and Musical Heritage (U.S.A.).
Past events featuring this artist