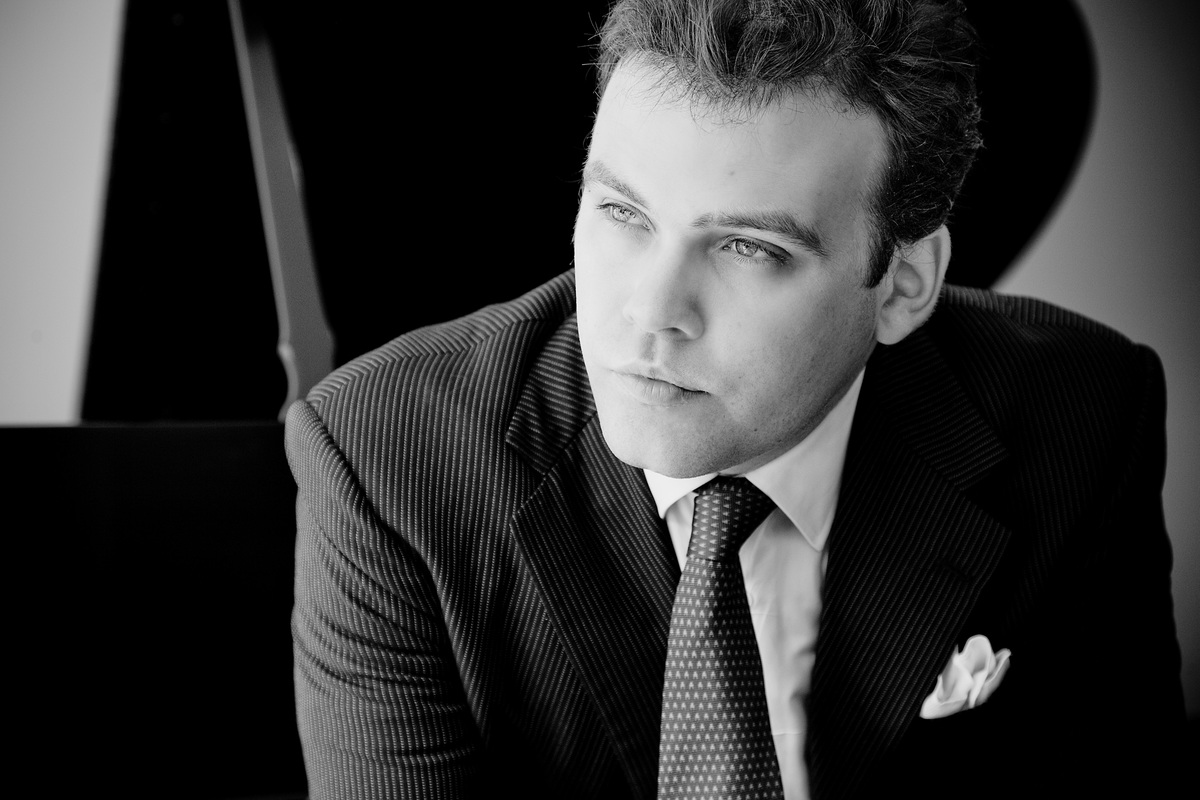 Photo: Balazs Borocz
Kimball Gallagher
KIMBALL GALLAGHER has risen to prominence as one of the most dynamic and multifaceted pianists on the stage today. His sensitive insights at the keyboard, coupled with his singular entrepreneurial sensibilities, have enabled him to explore a broad scope of creative endeavors.

Critics have described him as a "dynamo," "sunlit and rapturous" and "a lightning bolt" Gallagher's sold-out 2008 debut at Carnegie Hall launched his international The 88- Concert Tour, a tour reviving the salon culture through a series of 300+ performances in a variety of non-traditional venues. Gallagher has blazed a trail across the 7 continents, appearing in 30 countries, and has performed in distinguished venues and intimate gatherings all over the world, from the Kennedy Center to Kabul, Bombay to Boulder, Chicago to Shanghai, and Tuscany to Tunisia. The 88 Concert Tour concluded with a culmination recital by Gallagher at Carnegie Hall in 2015, in New York City, leading to initiation of 88 International, an international organization initiating and executing projects across the globe.

His upcoming recordings of standard repertoire include the complete Chopin Etudes, Mussorgsky's Pictures at an Exhibition, a CD of Liszt including his epic Sonata in B Minor. Additionally he has recorded 88 of his own Preludes, described below, a CD of music for solo piano by young Tunisian composers, a CD of works he commissioned placing the piano in an Indian classical music context, and numerous other works by composers Hwaen Ch'uqi (Peru), Achraf Fouad (Egypt), John Baboukis, Augusta Gross and Simon Fink. He has assembled a CD of music he performed at the Chilean Antarctic Institute including works from Chile, China, Uruguay, and Russia, in addition to Ode to Antarctica by American composer Christina Courtin which was given its world premiere in Antarctica. Finally he will release a 4-hand piano CD with Taiwanese pianist Kaiyin Huang entitled Jeux d'enfants (Children's Games) including Bizet's set with the same titles and commissioned works by Ming Hsiu-Yen and Kechia Chen.

In Taiwan. Gallagher launched Taiwan88 with pianist and author Kaiyin Huang. Together they have performed for over 28,000 students, in 14 counties, in 87 schools throughout Taiwan. In 2013, Gallagher co-founded a classical music festival in the country of Myanmar, the Myanmar Music Festival, now in it's 5th season. During his 25 trips to Tunisia he has performed in countless venues the country, the result of on-going collaborations with US NGO Cultures in Harmony, Tunisian NGO Atlas Association, composer and former finance minister, Jaloul Ayed. Currently heading up Tunisia88, a concert series through schools in all governorates in Tunisia leading to the establishment of music clubs in each of the 88 schools. Through his organization, 88 International, Gallagher has collaborated with the European Investment Bank, the United Nations, Embassies of USA, Canada, Germany, Malaysia, Thailand, and Switzerland and countless businesses.

A prolific composer, Gallagher has written and debuted one prelude for each home concert on The 88 Concert Tour, which spells out the host's name in a musical compositional system. His work written for the King of Thailand, was published by the Siam Society Journal and presented to King Bhumibol in celebration of his seventh cycle. Widely regarded as a classical music advocate and an entrepreneur fiercely dedicated to humanitarian causes, Gallagher is founding a non-profit organization to serve as an umbrella for the various creative partnerships and collaborations his concerts have inspired. Through these initiatives, Gallagher has helped to raise over $75,000 for 12 non-profit organizations and NGOs

A native of Boston, Kimball Gallagher earned his undergraduate degree at Rice University in the studio of Jeanne Kierman-Fischer, and his Master of Music degree as a pupil of Robert McDonald at The Juilliard School. His life-long mentor, pianist Joseph Smith, is a mainstay of his musical development. Other important teachers through Gallagher's career include Jerome Lowenthal, Jonathan Bass, Lev Natochenny and Matthew Cameron. A resident of New York City, he enjoys composing, cooking, exploring various musical genres, and of course, travelling.
http://www.kimballgallagher.com
Past events featuring this artist