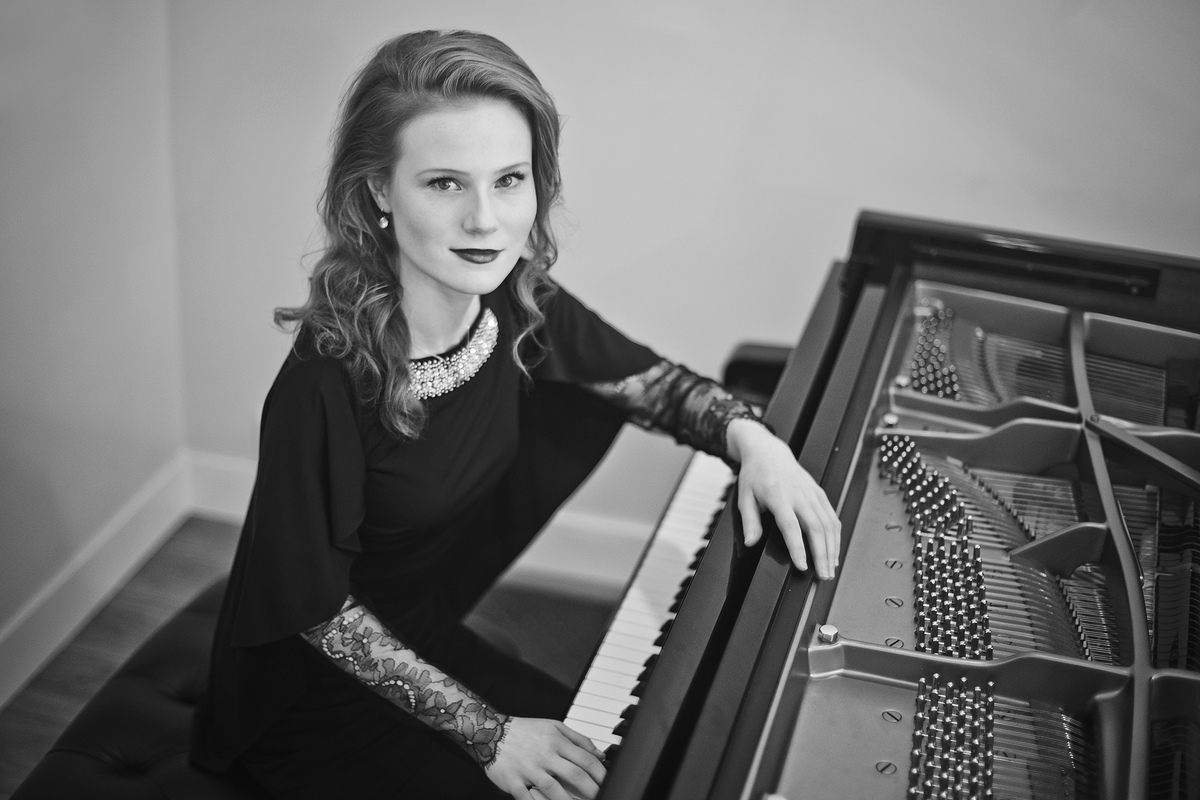 Katarzyna Mróz
Graduate of Frederic Chopin Music University in Warsaw, where she also completed postgraduate vocal chamber music studies.

Laureate of piano competitions including 3rd prize at Johann Sebastian Bach International Piano
Competition (Gorzów Wielkopolski, Poland), 3rd prize at Forum for Young Musicians
(Rybnik, Poland), 3rd prize at Piano Competition in Nałęczów that took place during the
International Piano Festival and Mastercourse in Nałęczów, Poland. Finalist of XI International Piano Competition in Huesca, Spain. Laureate of scholarship awarded by President of Opole. In 2007 Katarzyna performed Piano Concerto op. 21 by Frederic Chopin with Opole Philharmonic Orchestra.

Katarzyna has given recitals in Poland including Warsaw Music Society, Chopin's manor in Duszniki Zdrój, Myślewicki Palace and Water Palace in Łazienki Park, during festival "The Longest Birthday of Chopin" (Warsaw), during open air concerts "Chopin by the river Bug" in Mielnik, as well in Germany, Czech Republic, Spain, Italy, Switzerland and China.

In 2018 Katarzyna gave concerts in Shanghai (Shanghai Music Hall) and Suzhou Art Town, China. Gave piano classes during Zenin Piano Masterclass in Shanghai and recorded on-line tutorial on performing Chopin's pieces dedicated to the chinese piano students.

Katarzyna gave over 200 recitals for audience from all around the world in "Chopin's Salon", "Chopin Point" and "Music's New World" in Warsaw, where she performed regularly solo and in duets with soprano singers.
Katarzyna performed recitals in Steinway Piano Salon in Warsaw and also in Copernicus Science Centre during series of concerts "Under the stars" in Sky of the Copernicus Planetarium inclusive pieces by Maurice Ravel.

Katarzyna worked with many outstanding pedagogues as A. Jasiński, A. Paleta – Bugaj, W. Świtała, K. Popowa-Zydroń, E. Pobłocka, Z. Raubo, A. Nosè, A. Siirala, K. Kenner, M. Herbowski, G. Kurzyński, J. Banowetz, A. Wodnicki, A. Stefański, G. Maiorca, K. Brzozowski, T. Mack, L. Tamulevich, E. Levitan, M. Ülkü, D. Blumenthal. Took part in mastercourses in Poland and in Germany.

As a local culture animator Katarzyna organized open air concerts and music workshop for children during the festival "Otwarta Ząbkowska" in Warsaw. Recently she graduated from Warsaw School of Economics in field of Cultural Management. In 2019 she is preparing to release her first CD Valses and tour Japan.
Past events featuring this artist