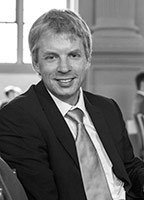 Jörg Wischhusen
In parallel to his studies of biochemistry Jörg Wischhusen obtained a concert diploma for piano chamber music with Prof. Friedemann Rieger in Winterthur/Zurich, Switzerland.
He has won prizes in international music competitions (Chartres, Markneukirchen, Prague), made recordings for CD and radio stations and performed with acclaimed soloists at the Prague Spring Festival, Festival Mecklenburg-Vorpommern, Bodensee-Festival, Festival Mitte Europa, Ceresio Estate (Lugano), Festival de Montreux-Vevey and Midsummer Nights (Oslo). His teaching has included master classes in Europe, Chile and Cameroon.

Jörg Wischhusen holds a Ph.D. degree in immunology and is Professor of Experimental Tumor Immunology at the University of Würzburg.
Past events featuring this artist