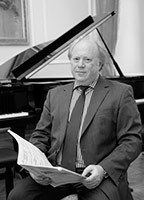 Photo: Droits réservés
Ilja Scheps
Ilja Scheps completed his studies at the Moscow "P. I. Tschaikowsky" Conservatory under Prof. Lev Vlassenko and Prof. Evgenij Schenderowitch.
From 1982 to 1992 I. Scheps was soloist of the Moscow Philharmonic Society. Hegave concerts with orchestras and solo recitals and also appearing as accompanistof renowned singers and instrumentalists there. This resulted in his acquiring a largerepertoire, including works by Bach, Mozart, Beethoven, Chopin, Debussy, Skrjabin,Prokofjeff and Tschaikowsky, as well those by Schnittke, Silvestrov and Denisov.At the same time I. Scheps taught at the Moscow "P. I. Tschaikowsky" Conservatory.
From 1992 I. Scheps lives in Germany. Besides his performing in many countriesround of the world he is an enthusiastic pedagogue. Many years I. Scheps was aprofessor at the Rostock Music University and at the Darmstadt Music Academy.
Now he is a professor of the Musikhochschule in Cologne/Aachen (Cologne MusicUniversity). Students of Prof. Scheps are winner of important international pianocompetitions so as exclusive artists of "Sony" and "Universal" Records.
I. Scheps also conducts workshops and master classes at the international musicacademies and as a visiting professor in many universities all over the world andsince 2017 Professor of Music Academy in Brescia (Italy).
Prof. Scheps was invited as a honour professor to give master classes in BeijingCentral Conservatory as well Shanghai, Tianjin and Sichuan Conservatories of Musicin China. Since more than ten years Prof. Scheps is visiting Professor in ShenzhenArts School as well in Central Conservatory of Music Gulangyu Piano School inXiamen.
Prof. Scheps is a jury member of some most important international pianocompetitions – Shenzhen Int. Piano Concerts Competition (China), "Top of the World"and "Grieg" Int. Piano Competition (Norway), "Chopin" Int. Piano Competition inDarmstadt (Germany), Int. Piano Competition in Madrid (Spain), Scriabin Int. PianoCompetition in Grosseto (Italy) and many others.Prof. I. Scheps is a Jury-Chairman of MOZARTE (former "Prix Amadeo") InternationalPiano Competition in Aachen (Germany).
Ilja Scheps has recorded more than 10 CDs with "MCA" (USA); "Le Chant du Monde"(France), "Melodia" (Russia), "Coriolan/Teldec", "Deutsche Welle", "ECM-Records"(Germany).
Past events featuring this artist