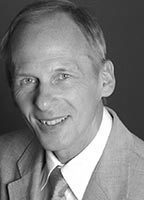 Gordian Sehrig
Gordian Sehrig was born on June 16th, 1957 and grew up in Berlin. In parallel to studying Electronics on Berlin Technical University he underwent an intense musical education on the flute. He studied with renowned teachers like James Galway, Colin Fleming and Beate-Gabriela Schmitt.
After holding several technical and management positions in the electronic industry he is today Director Operations for Avnet Embedded, part of the worlds leading distributor of Electronic components.
Gordian started early with public performances. After joining the Berlin University student orchestra "Collegium musicum", he was one of the first and long-term menbers of the "Berliner Sibelius Orchester", an engaged Amateur Orchestra which until today is one of the leading orchestras in the Berlin amateur scene.
In 1993 he was co-founder and until today member of the board of the "Sinfonie Orchester Schöneberg" (http://www.sos-ev.de). Being one of the well known German amateur orchestras, the "SOS" always is conducted by professional musicians mainly from the Berlin Philharmonic, accompanying renowned soloists. Concert tours led the orchestra to Mexiko, Italy and Greece.
Apart from having played all great orchestra solos like in the Brahms, Beethoven, Mendelsohn, Mahler symphonies, Gordian constantly performs woodwind concertos and solo recitals, recently Prokoffiefs Sonata for flute & piano (together with Eberhard Zagrozek) and the Franck Sonata (with Max Sung).
Past events featuring this artist