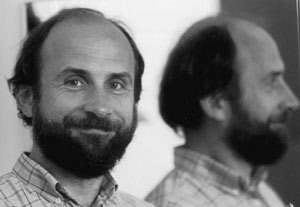 Gabor Eckhardt
Gábor Eckhardt was born in Budapest in 1957.
He started his piano studies at the age of six at the famous Zoltán Kodály Elementary Music School. He graduated at the Béla Bartók Conservatory as a student of Edit Hambalkó in 1975. He gained admisssion to the second year at the piano faculty of the Ferenc Liszt Academy of Music. His professors were Sándor Falvai and György Kurtág.
He won the first prize at the Ernst von Dohnányi Piano Competition in 1980. He received his artist diplom in the same year.

As a postgraduate student of Dmitri Bashkirov he gained scholarship at the Tchaikovsky Conservatory in Moscow from 1980-1982.
He has an established reputation giving concerts in Hungary and abroad frequently. His commitment in contemporary music is also well-known.

He obtained the Liszt State Award in 1996. As a dedicated interpreter of Hungarian contemporary music he received the Artisjus-prize several times.

He is a founding member of the Intermodulation Chamber Ensemble. With András Horn (clarinet) and György Déri (cello) he formed theTrio d'Echo in 1997.
Since 2003 he is a member of the Budapest Festival Orchestra.
He is currently professor for piano at the Ferenc Liszt Academy of Music, and at the Béla Bartók Conservatory in Budapest. Since 1991 he has been vice-principal in the Conservatory.
He is a well-known, efficient professor. Numerous competition-awards are won by his students in all age-groups among international and national ranks.

He already presented demonstrations of the Kodály-Method in Portugal at the age of 18. He has been giving master courses on basic, intermidiate and advanced levels (Bartók Seminar in Szombathely, Balassagyarmat/Hungary, Bratislava, Komarno/Slovakia, Geneva/Switzerland, Takasaki, Tokyo/Japan, postgraduate course in Schloss Weinberg/Austria etc.)
1984-2006 he led chamber-music masterclasses in the summer music camp, Collegium Musicum in Schloss Pommersfelden/Germany.
He gave presentations at the Hungarian-Japanese Con-tact Symposium.
As a member of the jury he participated in several competitions in Hungary and abroad (Austria, Sklovakia, Serbia, Japan etc.) as well.

He is also the creator of the new curriculum of piano studies on basic and intermediate levels and the module-training system in Hungary. For his achievments in education he was honoured with ministerial credit by the Department of Cultural Affairs in 1989 and 2004.
Thousands of children are watching his special educational programs on television and in life.
He is the editor of the second volume of "transcriptions" by Georges Cziffra.

From 2005-2007 he was a member of the Polifonia project Pre-college working group organized by AEC.
Past events featuring this artist