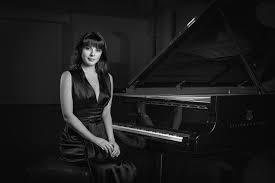 Ekaterina Mechetina
Ekaterina Mechetina is undoubtedly one of the most acclaimed artists of her generation and a leading light in piano performance and the advancement of art and culture in Russia. What marks her out however is not only the awards and accolades she has achieved throughout her career, but also the attention she has given to broader, often untapped areas of music and art. From early in her career she became a prominent advocate of repertoire beyond that of the typical competition and performance circuit – a commitment that carries forward to this day.

Early life

Her upbringing was typical of many of her contemporaries: she was born into a family of musicians, and it soon became clear that she had her parents' gift for music. As a child she was accepted to study under T. L. Koloss at the Central School of Music for the Moscow State Conservatory - one of the world's most highly acclaimed schools for gifted children and the springboard for many world-famous musicians.

After finishing her schooling, she studied at the Moscow Conservatory under the tuition of V. P. Ovtchinnikov, and for her postgraduate studies, under the renowned Professor S.L. Dorensky. Dorensky's students have collectively won over one hundred prizes in competitions across three continents; Mechetina's prize at the Cincinnati Piano Competition was to be the hundredth.

Early career

Mechetina's first career highlight was at the Youth Piano Competition in Italy, where at the age of ten she won the Mozart Prize, for which she received a piano. Over the next few years, she performed in many concerts and competitions across the world with repertoires of increasing scope and interest. As well as across Russia, she played in South America, North America and Europe, in competitions such as the International Busoni Piano Competition, and the Vercelli, Pinerolo and Cincinnati piano competitions, all of which awarded her first prizes. During these early years she was already earning critical acclaim: the Boston Globe ran with, "This highest-class Russian pianist Ekaterina Mechetina strikes the public by her debut in the US", and a Busoni review stated, "Young Ekaterina already now is on the peak of world pianism".

Today

Since the mid-2000s, Mechetina has broadened her scope and influence; her solo career has continued to grow, with well over 50 piano concerti and numerous recital and chamber programmes in her repertoire. She leads an intensive concert schedule - around 80 concerts each year, and increasing. She has performed with many of the world-class orchestras in some of the most famous venues in the world, in Moscow and other Russian cities, as well as abroad - the Schauspielhaus in Berlin, the Gaveau in Paris, the Concertgebouw in Amsterdam, and the Sala Grande of the Milan Conservatory to name a few.

As well as her performance schedule, Mechetina holds a teaching post at the Moscow P.I.Tchaikovsky Conservatory and gives regular master classes from beginner to postgraduate level in different countries including South Korea, Japan, Norway and others. She also leads an active role in Russian cultural life and is a judge at many prominent international competitions, such as the televised Nutcracker competition in Moscow and the Astana Piano Passion in Kazakhstan; she is a member of the Presidential Council for Culture & Arts and was elected as co-Chairman of Council for musical education at Russia's Ministry of Culture. She also directs her own festival, "Green Noise" in Surgut, Russia, which runs annually.

Approach and philosophy

Mechetina puts a large part of her success down to some key relationships she struck early in her career: in 2002, as part of Russia's celebrations of Rodion Schedrin's 70th birthday, one of the concerts had to be cancelled due to the pianist being suddenly unavailable. Her tutor, Dorensky, convinced Schedrin to enrol Mechetina to step in at short notice. The concert was a great success and Schedrin, who demanded the most exacting standards of his pianists, was so impressed that he entrusted her with all his new piano works, including his 6th Piano Concerto, which she premiered at the Amsterdam Concertgebouw.

Another crucial encounter was with Vladimir Spivakov, which led to her becoming one of the most invited guest soloists of the Maestro's two orchestras – the National Symphony of Russia and Virtuosi of Moscow. Another was with Mstislav Rostropovich, who invited her to perform in his concerts in Taiwan, giving her a scholarship in his Foundation, ultimately leading to her taking classes in France.

These encounters were key milestones in Mechetina's development and influenced her whole attitude to the profession. To summarise Mechetina's own take on her art: it is not the accolades or the achievements that make the musician, but the recognition that there is no limit to perfection. It is this driving philosophy that pulls her along her path as a musician.
Past events featuring this artist