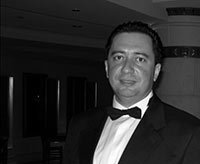 Dmytro Vynohradov
Dmytro Vynohradov was born on April 26th 1970 in Kiev, Ukraine in a family of famous movie director, as a successor of a dynasty dedicated to the art, music and literature. In his early childhood he has shown great music abilities and particularly as a piano player. Growing amongst musicians, he has performed Mozart Fantasia d-moll at 8 years old and Schubert 4 Impromptus and Prokofiev 12 pieces at 10 years old in public.

In the 1990's he left the former Soviet Union and settled in the United Arab Emirates as a resident starting his own business. He is now working as a Director for his own Investing Company, but keeps constantly polishing his mastery in the art of piano.

Dmytro Vynohradov regularly participates in open concerts and classical music festivals in Germany, Italy, France. Prizewinner in a number of International Competitions including second prize at the 20th International Concours des Grands Amateurs in Paris 2009, Special Mention Award at the Ibla Grand Prize 2008, in Italy, 1st Place at «Rocky Mountain Piano Competition» A.P.I. (Colorado, U.S.A., 2009).

On October 1st 2009, he played with great success in Paris, Sorbonne Grand Amphitheatre, Tchaikovsky Concerto n°1 with a Symphonic Orchestra conducted by Francois Boulanger.

He performs in various international events dedicated to classical music. The music of Russian classical composers has always been a major priority in his performances since it reflects the main qualities of his playing and has always been warmly welcomed by the public.