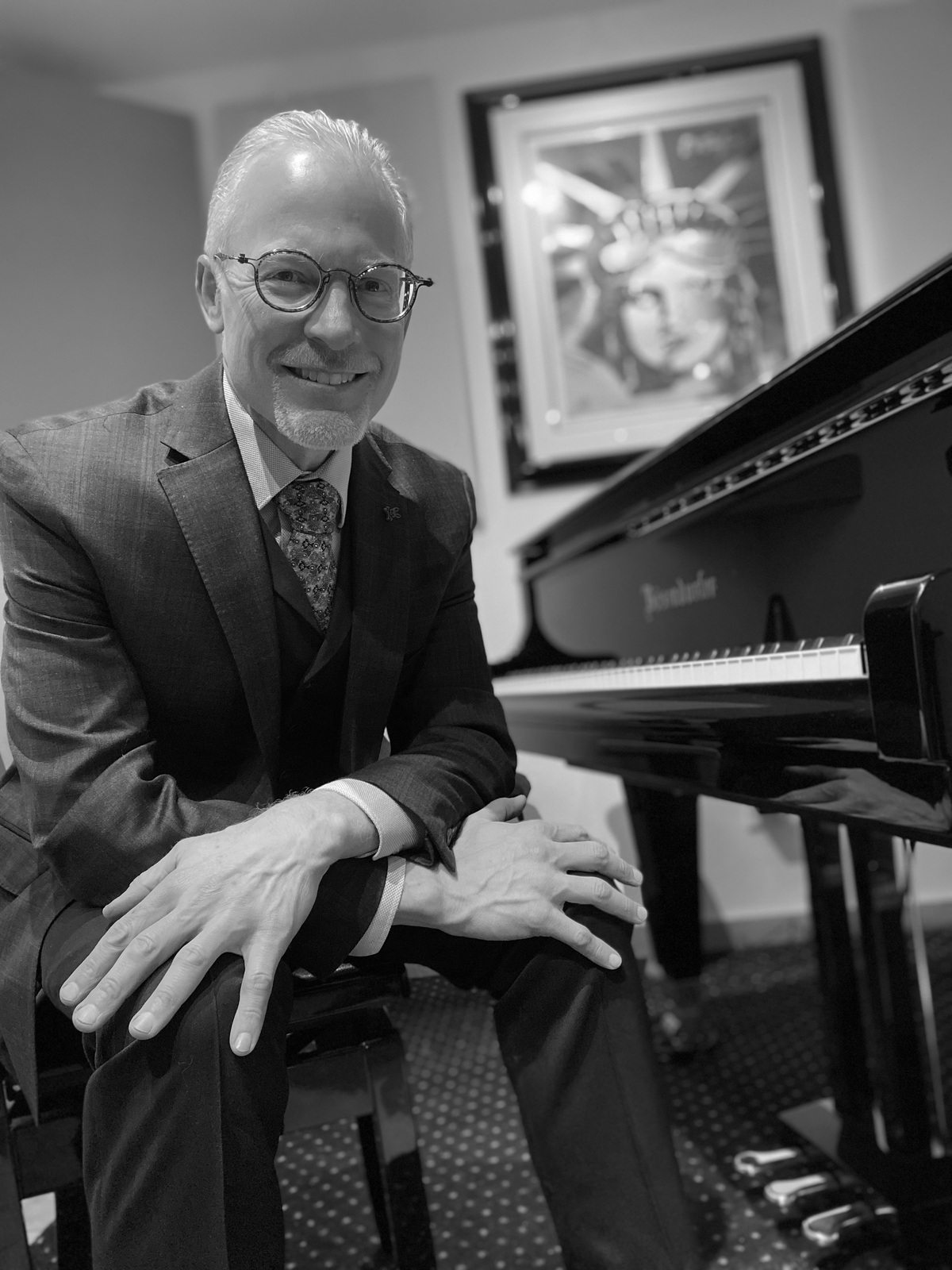 Dale Backus
Dale Backus is a Project Engineer/Manager for KBR in Colorado Springs, CO. He has worked for KBR (formerly Honeywell) for 26 years and enjoys the challenge of helping maintain and improve a United States Air Force (USAF) satellite communications system that has been in service for over 60 years.

Dale has been playing the piano since just before his fourth birthday. He loved both organized sports and music studies throughout his secondary education. Although he finished his college years with a Bachelor of Science degree in Mechanical Engineering from Rose-Hulman Institute of Technology (1995), he first went to college on a Division-1 football scholarship as a punter and to also study music at Wake Forest University in North Carolina receiving his Bachelor of Arts in piano performance (1990) under the instruction of Louis Goldstein. He then was awarded a scholarship to the University of Michigan School of Music to pursue a Master's in Music degree in piano performance (1993) under the study of Steinway Artist Arthur Greene. He performed in several masterclasses including playing the 2nd Brahm's Piano Sonata for Eugene Istomin. He competed and won in the school's concerto competition with a performance of the Brahm's 1st piano concerto.

While in Michigan, he also engaged in the music school's pedagogy program teaching individual and classroom piano. Dale also was invited in an apprenticeship program in the piano tech department learning how to tune and repair pianos from Steinway technician Robert Grijalva for the music school which lead to his initial interest in pursuing engineering.

From 2002-2006, he participated in many international amateur piano competitions including Paris, Berlin, Rocky Mountain and the Van Cliburn, with a top prize finish in the Rocky Mountain, and fourth prize in both the Paris and Berlin competitions. During the last 15 years, Dale has been invited and performed solo recitals at various Les Amateurs Virtuoses Festivals throughout the world including Paris, Shanghai, Buenos Aires, Saint Petersburg, and Cape Town. He has also performed locally in Colorado several times solo and collaboratively, including playing with the Colorado Springs Philharmonic performing Gershwin's Rhapsody in Blue and the Chamber Orchestra of the Springs in Colorado Springs performing Beethoven's 4thpiano concerto. He recently performed in the 2022 Newport Classical Festival in Rhode Island featuring top amateur pianists which was a benefit concert series for Ukraine. During the last 20 years, he has received instruction from Michael Baron (2002-2005) and Steinway Artist Yelena Balabanova (2006-2020).

He is married to Laura, who is a professional equestrian. They have two daughters, Madeline (also a professional equestrian) and Charlotte (elite cyclist/professional cycling coach in Park City, Utah). They live in Larkspur, Colorado and take care of a large equestrian facility where both Madeline and Laura train horses and teach riding lessons.
Next events featuring this artist