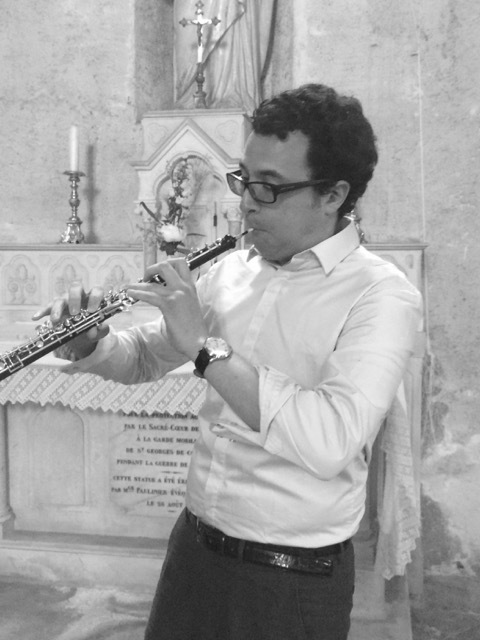 Charles-Thibault Petit
Born in 1987, Charles-Thibault began his musical studies in Paul Dukas academy (Paris) in 1994. He obtained there in 2002 his qualifications in musical notification and studied piano from 1995 to 2001 with Professor Florence Aramburu.

Totally seduced by the oboe during a concert, he has been student of Professor Laurent Hacquard – previously first oboe of Pasdeloup Orchestra and ex student of international oboist Pierre Pierlot - from 1998 to 2010 in Maurice Ravel and Gabriel Faure academies (Paris). During his academic year in Madrid (Erasmus program), Antonio Faus, first oboe of the « Orquesta de la Radiotelevisión española », was Charles-Thibault's teacher. From 2010 to 2012, Charles-Thibault passed his « post-final degree » in Guy Dinoird academy (Fontenay-sous-Bois) with Professor Jean-Michel Penot, soloist of the Ile-de-France orchestra and former student of international oboist Maurice Bourgue.

From 2003 to 2010, Charles-Thibault has played among orchestras as oboe soloist in Maurice Ravel, Gabriel Faure and Erik Satie academies. He was also first oboe of the « Orquesta de la Universidad Autónoma de Madrid » in 2008.
He also followed two masterclass : the Young Soloist Academy (2008), ruled by international violin-players Christophe Boulier and Serge Hurel, and a jazz masterclass directed by international jazzman and oboe player Jean-Luc Fillon (2012).

Charles-Thibault is currently playing with the French pianist Sylvain Lévy, double-winner of Maisons-Laffitte international prize. Since they met in 2013, they have being giving concerts in French high-official schools, local festivals, and concert-halls.
Charles-Thibault also plays in a wind band called « l'ensemble Jacques Lancelot ».

Professionnally speaking, Charles-Thibault is working as a senior official and rules the audit department of a French district called Essonne in the South of Paris.
Past events featuring this artist