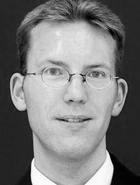 Björn Grünewälder
Born in 1973 in Bielefeld (North Rhine Westphalia), Björn Grünewälder took up the cello at the age of nine, studying at the Bielefeld School of Music and Arts under Hans-Gerd Sturm and Rosemarie Seidel. He was subsequently selected for the gifted pupils class and began studies in pianoforte. Björn Grünewälder was a prizewinner in the "Youth make music" competition in 1991 and 1992. Between 1992 and 1993 he completed his cello studies under Linda Langeheine at Wuppertal Music College.

Following undergraduate studies in Law and Economics at the universities of Bielefeld and Düsseldorf, as well as post-graduate legal practice training in Düsseldorf and Berlin, Grünewälder worked at the CDU Federal Headquarters in Berlin, where his duties included speechwriting for the party leader, Angela Merkel. Following Merkel's election as Chancellor, he took up a post in the strategy unit of the Federal Chancellery in 2006.

Björn Grünewälder is principal 'cellist in the Berlin Sibelius Orchestra and the Coburg Bruckner Orchestra. He also plays in a number of chamber music ensembles and manages the organization of the project orchestra «ski and Music».
Past events featuring this artist