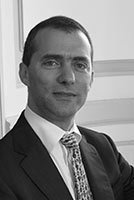 Ariel Sirat
Ariel Sirat is an Amateur pianist, and he has been performing since many years concerts as a soloist or in chamber music. He learned the piano in Vienne (France) and at Lyon and Versailles Conservatories. He won several prizes at amateur piano competitions (Concours de piano et de musique de chambre de l'Ecole Polytechnique, concours national de Saint-Nom-la Bretèche, Concours Européen des Mélomanes), and was recently finalist and first French candidate at the Paris Competition for Outstanding Amateur Pianists in 2006. This allowed him to be produced in the famous French TV series «Musique au Coeur».
His repertoire starts with the baroque period and ends with the first half of the 20th century. It comprises chamber music pieces with strings (form duo to quintet), concerti (Bach, Mozart, Beethoven) and solo piano. He made several recordings, including Bach's Goldberg variations, and he distributes them under the private label that he created : «Références Amateur». Ariel SIRAT currently follows piano master-classes with Germaine Devèze in Paris.
In his professional life, Ariel SIRAT manages the Research and Technology Portfolio in System and Product Engineering of an European Aeronautics Defence and Space company. He is married, with three girls.