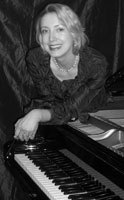 Allicent Ratzlaff
Born in Japan in 1975 from French and American parents, Allicent D. Ratzlaff began studying piano at the age of four. At age 9, she started taking lessons from Irina Naumova, Lev Naumov, and Vera Gornostaeva. She was influenced in her musical upbringing by three different countries : Russia, Japan (Yoko Ikeda and Mari Nakano), and France (Henriette Puig-Roger, Yves Henry).

After studying in Paris, she received two first prizes in 1997 with honors in piano and chamber music, as well as the CNR prize in piano. She performed in the Salle Cortot, at the Saint-Germain Auditorium, at the Richelieu Amphitheatre of the Sorbonne, and at the Music Festival of Tours, as well as on other occasions in the USA, in Italy, Germany, and in Japan.

After completing her PhD at the Sorbonne (Paris IV) on the subject of poetry and music in 19th c. Europe, she gave recitals in Italy, in Jesi, Pesaro, and Rome, and worked with opera singers for the Rossini Opera Festival. Her performing repertoire includes Liszt, Rachmaninov, Beethoven, Chopin, Prokofiev, Tchaikovski, Schumann, Ravel, Fauré, Debussy, and Scriabine.